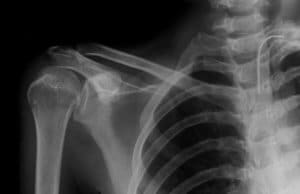 Because the spine and the arm move together, if the back isn't doing it's share, the shoulder will need to do extra. We work on the muscles and the joints from the waist up to make sure that the ball and socket joint of the shoulder is healthy.
The shoulder blade is only attached to the body by 2 small joints: where the collarbone meets the breast bone at the meeting of the neck and chest (the SC joint) and at the bony prominence on the top of the shoulder (the AC joint). It is pulled in 10 different directions by 7 major muscles and the shoulder joint goes where blade tells it to go.
The ball and socket shoulder joint is like a golf ball sitting on a golf tee. The flat cup of the top of the tee is like the outward facing side edge of shoulder blade. If the cup faces down, the ball falls off, if the cup faces up the ball stays put. Controlling the ball depends very much on controlling the blade.
If blade muscles are stiff and can't lengthen like they should, we stretch and massage them and teach you exercises to do at home. If they are weak and not contributing as they should, we teach you how to wake them up and improve strength and endurance.